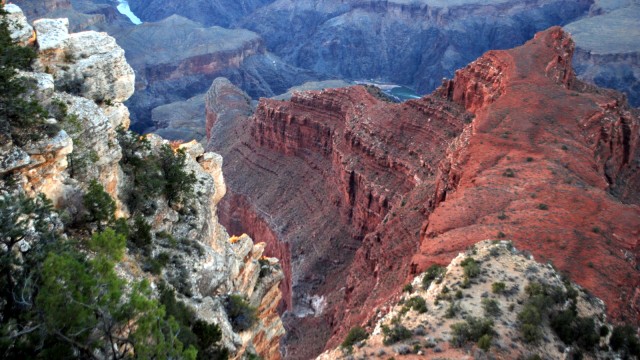 Different eyes – different views
I love exploring with my youngest, now 22.  Together, we have the patience to pause, to ponder and to absorb the setting around us.  As a science-oriented gal though, she sees things through the lens of reality, while I often find humor and weirdness in a scene.  Recently, we both stood in awe of ever-changing views as light played across the landscape seen from the south rim of the Grand Canyon, but we each took away something very different.
For my youngest, it was the wonder of rock formations in layers of time that are almost unfathomable.  For me, the formations took on personalities, totally obvious to my artistic eye, but even now oblivious to my practical daughter.
For example, at Mohave Point, a 6974-foot high overlook at the western end of the canyon, she notes the jagged edges of the red sandstone mesa and the 3000-foot canyon walls that define The Abyss.  Ahhh, that's interesting… but at the left side of this picture, I immediately spot a gorilla head and a woman holding two babies. 

So here's to seeing the world through different eyes!